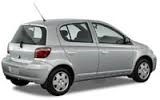 2004 Toyota Echo Hatchback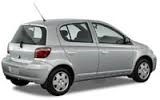 My 2004 Toyota Echo hatchback vehicle isn't much to look at when you first see it. Although, my husband thinks it looks like a baseball cap, this car has benefitted us in many ways. When the seats are folded down in the back this car is very useful, we have transported very large items including a snow blower in this vehicle.
The vehicle has a 1.5 L Inline 4-cylinder engine which is durable and easy to fix because all of the parts are at arm's length. Engines that are 1.5 liters aren't very fast, they have 108 horsepower at 6000 rpm. This car averages 60 km per gallon of gas, that being said a tank of gas for this car lasts us approximately two weeks. I have the five speed manual version of this car and it is very easy to drive, although it isn't luxurious it is practical.
I use this car for winter driving mostly because the car isn't very fancy and can take the cold harsh winters we have here in Ottawa. This car has a four star safety rating according to cars.com which enables me to feel safe driving my four month old daughter around in this vehicle. Toyota's safety ratings for all of their cars went down in the recent years because of their airbag/ break issues in the corolla models.
The down side to my particular model of vehicle is that, it is a base model. Base model cars don't have any luxuries. Therefore, some of the features that I cannot enjoy in this car that I can in my other car are:
Automatic windows, in the cold I have to manually wind down my window.
No leather interior.
No heated seats.
There is no sunroof
There is a stock base model cd player
No navigation
No auxiliary port to attach devices to the stereo
This car is very small and does not have any rear speakers which is an advantage and also a disadvantage at the same time. The advantage of this is that I can play music louder and it won't affect my little girl's ears. The disadvantage is that any adults in the back seat won't be able to listen to music as loudly as they would like.
This is a very reliable, safe vehicle that is great on gas. With this economy a car like this is priceless. I enjoy driving this vehicle, it shifts very smoothly and is easy to manage in a parking lot. Next time you need to buy a winter vehicle, consider an echo it is a great investment.